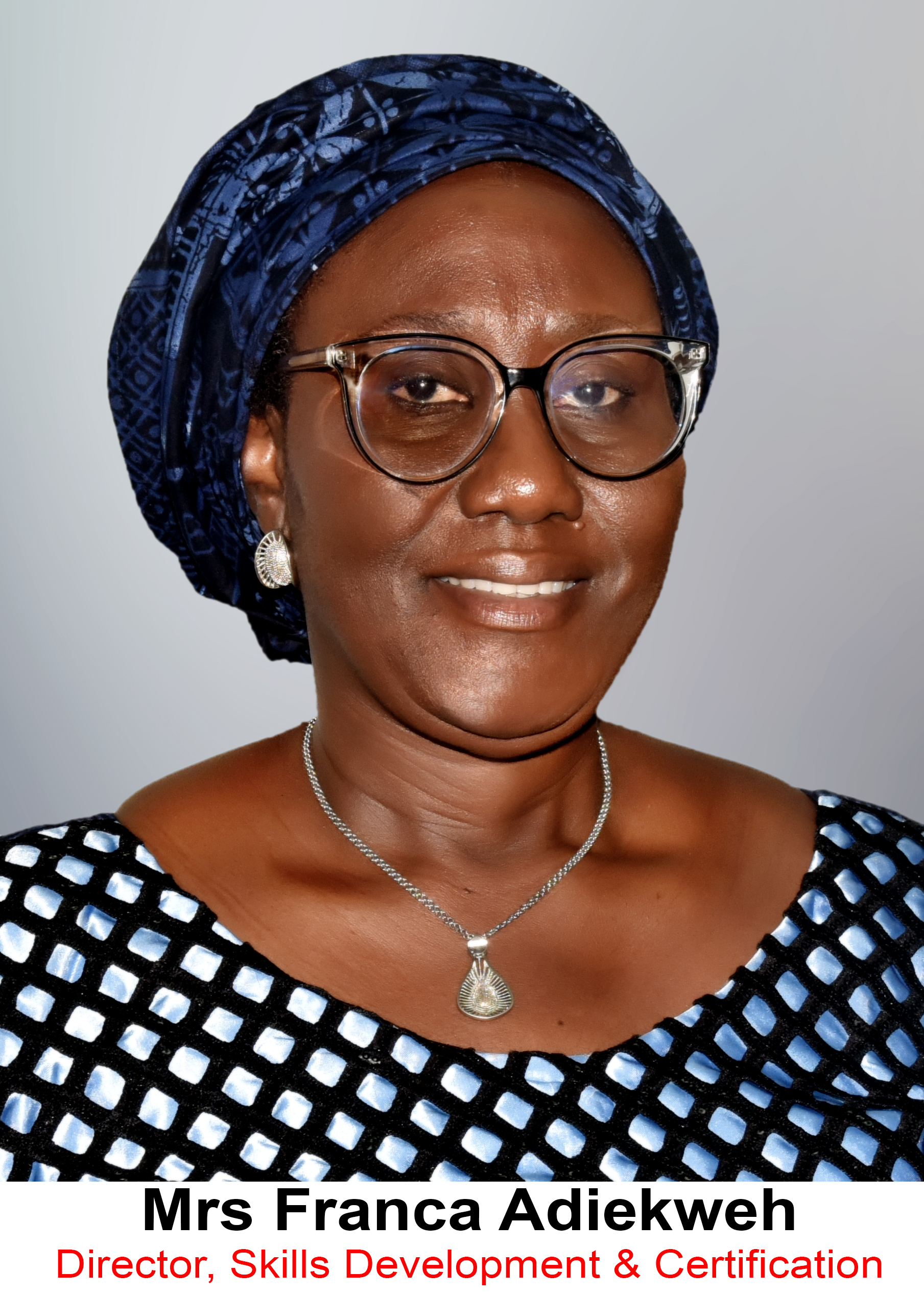 PROFILE OF MRS FRANCA ADIEKWEH, DIRECTOR – SKILLS DEVELOPMENT AND CERTIFICATION DEPARTMENT.
Mrs Franca Ngozi Adiekweh who hails from Onicha-Ugbo in Aniocha North Local Government Area of Delta State was born in Lagos State on a beautiful Monday morning on the 19th of June, 1967 into the family of Vincent and Mary Ibeaji of blessed memory.
She started her primary school education in 1971 in Lagos at Local Authority School, Apapa and in 1973, following the transfer of her father who was a Public Servant to Calabar, capital of the then South Eastern State(now Cross River State), attended Convent School, Calabar (an all-girls Catholic Primary School) up until 1975 when her father was again transferred to Port Harcourt in Rivers State. She was once again enrolled in a Catholic Primary School, St Mary's Primary School, Aggrey Road Port-Harcourt, after which she proceeded to an Anglican College -Archdeacon Crowther Memorial Girls School, Elelenwo in Port Harcourt for her secondary school education. When her father was again transferred to Makurdi in Benue State, she was enrolled at Federal Government Girls' College, Abuloma ,Port Harcourt in order for her to live in the boarding house and being a Unity school, it would afford her an opportunity to live and interact with children from all over the country. This decision by her parents is responsible for her being a totally detribalized Nigerian whose friends today, cut across various tribes and religions across Nigeria and beyond.
After her secondary school education in 1982, she proceeded to Federal School of Arts and Science Ogoja , Cross River State in 1984 for her A'Levels and in 1986, commenced her university education at Lagos State University from where she obtained a Bachelor of Law Degree in 1990 and a BL from the Nigeria Law school in 1991. She obtained a Master of Laws Degree (LL.M) in 2001 from Lagos State University.
For her Youth Service, she worked in the Civil Litigation Department of the Federal Ministry of Justice from 1991-1992 and thereafter, joined the Law firm of Gbola Akinola & Co. where she handled various criminal and civil cases as well as commercial transactions until she was recruited into the Federal Civil Service in November 1993 as a Labour Officer 2. Over the years, she has worked in various departments of the Ministry such as Employment & Wages, Inspectorate, Trade Union Services and Industrial Relations and currently Skills Development and Certification.
Mrs Adiekweh is a seasoned Industrial Relations Practitioner and Concilliator who has together with the management of the Ministry, resolved many high profile industrial disputes across various sectors in the Nigerian labour space. In the last few years, She played very active and crucial roles towards the development of Industrial Relations Guidelines for Education, Banking & Finance, Health and Power sectors, and in the review of the Guidelines for the Oil and Gas Sector.
She has attended various local and international Workshops and Conferences, and has during the course of time, acquired a veritable volcano of experience and strong organizational skills; which combined with her signature "Sense of Mission" approach to her duties, have earned her a fountain of successes in the vitiating and resolution of knotty labour issues.
She is happily married to Francis Chikwem Adiekweh and they are blessed with children.